When I was in high school, I clearly remember getting in trouble for reading books while I was supposed to be paying attention in class. See, school wasn't for me. I was a very shy and awkward girl (still am!) and I used to be made fun of throughout my schooling. In high school I would spend my lunch in the girl's bathroom. When I became a senior I had a wonderful English teacher. She gave me a permanent pass to go to the library during my lunch time. That completely fueled my passion for reading. I couldn't stop reading. I could finish a whole book in a day!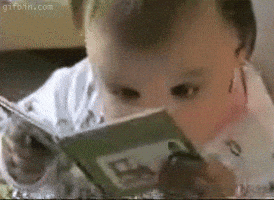 I didn't read the classics like Pride and Prejudice, The Great Gatsby, or Little Women. I had always been a fan of romance, especially in movies, so I started gravitating to Young Adult novels and any other modern romantic stories. I fell in love with the works of Nicholas Sparks, Sarah Dessen, Jay Asher, and more. At the time I was going through some rough relationships, and those books always gave me hope that I would find that kind of love in the future.
So why do we love books? Well, for starters they take you to so many wonderful places. I know for me personally, I like to read books that are placed in a beach town. I obviously don't live near the beach, so those books are the closest I can get. But I'll say one thing, you can sure feel the sun on your face, the sand in your toes, and the waves crashing just as well as you can if you were actually AT the beach. Books provide a solace. They are a friend when you need one, a shoulder to cry on, or even the fun and wild adventure you need in a dark time in your life. Books CHANGE!
I know that books have definitely changed my life. What about you? How have books changed your life? Is there a certain book you go back to again and again when you need that comfort? Is there a book that changed your world completely? Let me know in the comments! I'd love to hear everyone's opinions and what books have changed you!
Stay tuned for my next post, where I will be doing a book review of one of my all time favorite books!!
Until next time bookworms,
– The Paperback Princess 👑